Kadalekai Parishe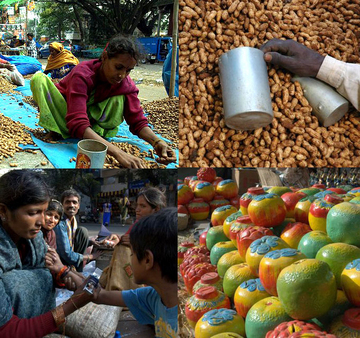 2 day festival during November, every year.
Note : This is a recurring event.
The Kadalekai Parishe is an annual tradition to appease the local deity. In the past, Basavanagudi was surrounded by places like Guttahalli, Mavalli, and Dasarahalli where groundnut was cultivated. On every full moon day a bull would charge into the groundnut fields and damage the crop. The farmers then offered prayers to Basava (Nandi) to stop this and pledged to offer their first crop.
Subsequently, an Idol of Basava was found close by. It has been said that, the Idol was growing rapidly, and the farmers nailed an iron peg on the head of the idol, which is visible in the form of a trishula even to this date. Later in the year 1537, Kempe Gowda, dedicated a temple to 'Dodda Basava' on top of the Basavanagudi hillock and installed the Idol. This temple is known as Bull Temple. Ever since, the farmers from surrounding villages come here every year and offer their annual harvest of groundnut as offering to Lord Basava. This is accompanied by the colourful annual two day fair called Kadlekai Parishe. Besides groundnuts, one can find numerous stalls selling food and knick knacks.